Best Municipal and Community Septic Systems in Sugar Land TX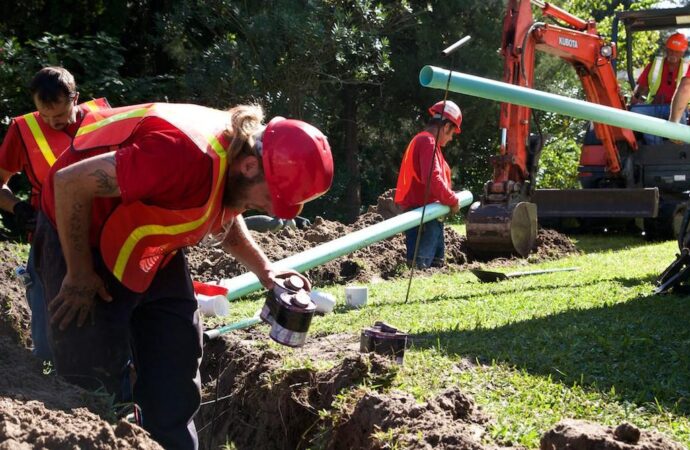 Making sure that an entire community has the perfect septic system will never be easy. Imagine having to install one on your property but then multiply it 10 or 20 times. We even think we're a bit short in the number. Of course, this is a general concept of the system and how it is used in a large community or even a small one with more than 10 or 20 residential properties in it. Now, if you are only looking for a septic system that allows you to place it in several properties but not as many as the previous number, you still can get it.
Community septic systems apply for this description overall, so you should be able to get one or more installed depending on the number of properties. In short, you don't really need to be surrounded or in an area with dozens of properties to get one done. You can use one instead of individual systems to get two or more properties with the sewage and lines needed to get rid of the wastewater. That being said, what project do you have in mind if you're here?
We know you're already interested in a community system or, at least, you're considering if it is what you need for your project and needs. Well, to determine if you need it or not, you only have to know what it is all about before getting started. In the case of community systems, they are just like any other septic system you can install in individual properties—as we briefly mentioned before. Essentially, they work in the same way and the installation of the parts and elements only needs an 'expansion' in order to cover all the areas where you want to have it placed.
This system also receives black waste and wastewater from all the connections to properties. But the volume exceeds 1,000 gallons every day and it can go up much more depending on the number of properties connected to the system. So far, it makes sense, right?
A simple and bigger septic system that you will install in a community. Now, to answer the question if you need it or not, that will depend on how you manage the usual problems that come with those systems.
They rely on the underlying soil to be able to treat the wastewater, but due to this approach, the environment is affected—or can be—when there is unfiltered or untreated water coming up into the ground.

Soil erosion and habitat destruction.

And we can't forget about aquifer contamination.
Since there are so many problems with this, why would people still go for it? Because of all the options available. We have to point out that the same risks and problems come with septic systems for both community and municipal ones. It is expected due to the number of people living in the area and how those systems are used.
Having in mind that with either a municipal or commercial one you will have the same problems, thinking about your project is a bit easier since you don't have to consider everything separately. But you don't have to accept each problem. The performance and how the system will work over the years is going to depend a lot on the installation and maintenance. This is why you need to get qualified professionals to handle the entire project not only because of the magnitude but also how serious it can be to have one piece out of place.
If you're looking for experts that will not disappoint and help you to get the septic system in your community or municipal area, make sure to contact us. At American Septic Tank Repair Team of Sugar Land, you can count on our experts and professionals who are not only well-equipped but also qualified and trained.
Why septic tanks and systems
---
Many people believe that septic systems are not the best option only for the previous problems that can appear out of nowhere. Well, the thing is that with proper installation and maintenance, you should be able to guarantee good performance and also prevent the previous issues. ´When you get the right experts, there is nothing to worry about anymore.
Since we will be handling your project and installing every tank, pipe, and element involved with it, you only need to think about why you need it instead of another option like the sewer line. Septic systems are reliable and efficient when it comes to getting rid of waste and treating water which actually makes it easier for some property owners to maintain green areas. If you consider the fact that all the treated water comes to the ground, you will notice how positive it affects your environment instead of the opposite.
Most people focus on looking at the bad things, but nothing is perfect and you should instead look at the good ones that overshadow the problems that also have solutions and prevention. Now, which role do we play in all this? Since community and municipal septic systems are just like individual ones but on a bigger scale, we will make sure to handle the test, permits, and every step of getting it in place. Installing septic systems in one property alone is difficult enough, imagine having to deal with multiple ones that will depend on it to get all the solid and liquid waste through the drains all the way to the tanks.
Our professionals at America Septic Tank Repair Team of Sugar Land will handle your installation but also offer future services. Such as maintenance, repairs, cleaning, pumping, and anything you might need to keep your septic system working. We also have to point out that most of the options available in terms of materials and how the system works are environmentally-friendly.
We have made sure to help the planet in our own way by accessing the right systems to guarantee no one will have to worry about contamination even during repairs, maintenance, and any problem that appear over the years. know what you want and need. Just get straight to our company, American Septic Tank Repair Team of Sugar Land, in this city or several ones around it in Texas. You can also use the contact form or choose our social media to get the attention you need.
We offer a variety of services at the American Septic Tank Repair Team of Sugar Land. Below, you will see the most popular services our clients & customers always ask for. But if you need something that may not be listed, don't worry. Just give us a call or fill out a form, and we'll make sure to come out to your property or business and make sure we can help you solve your septic problems
Here at the American Septic Tank Repair Team of Sugar Land, we provide the best septic tank services throughout all of Texas and specifically the Greater Houston Area. Below are the nearest cities we can offer immediate services. But if you don't see your city listed below, don't worry! Just give us a call or fill out a form on our contact page, and we'll make sure to take good care of you.
American Septic Tank Repair Team of Sugar Land
12847 Glenwolde Dr, Unit 4B, Houston, TX 77099
(832) 400-6464