Best Sewer Line Replacement Experts in Sugar Land, TX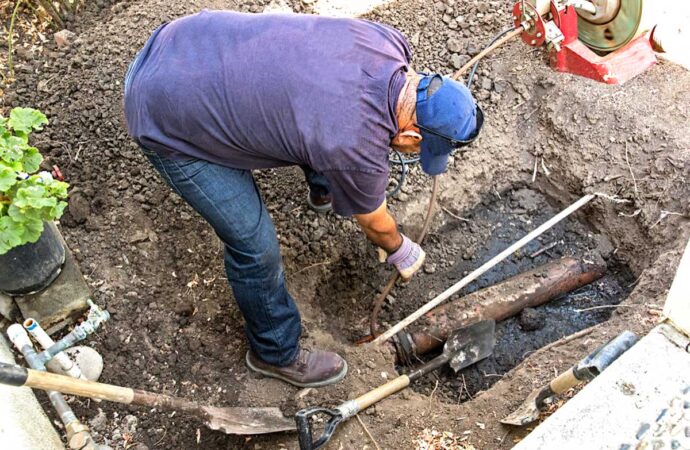 The idea of replacing something means having to remove that 'something', and we can all agree that dealing with the process of getting rid of the old one and placing new ones takes a lot of work. Well, it is not any different for sewer lines and all the pipes or parts involved in them. You have to think about all the time and effort it will take to replace them and make sure the new line works properly. Of course, you might be thinking that replacing sewer lines is not something you have to do quite often or maybe you never get to the point of needing it.
To be honest, you are not wrong, but in the United States, it is very common to deal with this process since some sewer lines in Texas to be more specific, are quite old and damaged already. As a result, you might acquire a new property—either residential or commercial—and know nothing about the condition of the lines. Therefore, you will end up replacing them due to poor condition or any other reason. What we are trying to tell you here is that you could get yourself involved regardless of you not being the one with the sewer line during all this time.
With that being said, do you always need to replace the sewage system despite all your efforts to repair it? Not always, but it is easy to determine when something like this needs a replacement. First, before you make a decision or even start buying and considering some options, you must determine and assess the damage. For this, you need to make sure that the experts you are considering hiring will be able to get to the bottom of the problem and let you know what can be done.
Our experts at American Septic Tank Repair Team of Sugar Land will get to your property or area in no time and assess the damage you have noticed within a day or a few hours—depending on the size and extension of the line. How can we get it done and not you? More than not being able to know where the sewer pipes or elements are damaged, it is about identifying the real problem behind it. You can have a leak, but what is causing it? There would be no point in even replacing the pipe if the reason behind the damage that made you go to this extent is external and will continue to be present.
Therefore, rest assured that our experts will be there to first, locate the pipes that need to be assessed in case there is not an obvious sign that shows the position. This can be the trickiest part of getting to know the damage to the sewer line, but it will not be difficult for us to locate them if we follow the structure of the property. Now, how much will it cost? It depends a lot on the among of pipes and the structure of the line we have to replace. Also, the company taking care of the project always has a different rate compared to others.
In our case, we like to work around the budget of the client and make it possible for him or her to get this done. After all, what is a property without a good sewer line? You could always wait a bit longer to get your replacement done, but this means there will be a high percentage of probability that the damage will be worse later on, which is equal to more money and time.
So, what can you do in this situation? What is the order of action?
Make sure you contact our experts and let them know your problems. 
Most signs of damage are present in your property when you know there is something that needs to be repaired. And the same goes for identifying if you need replacement. What makes the difference in going for one and another is the definitive damage of the sewer line and of course, you can only know this after the assessment. But with that being said many times so far, we know you're aware that getting in touch with us at American Septic Tank Repair Team of Sugar Land will be the first step.
Our experts will start the inspection. 
As soon as you contact us for this service or just let our team know there is something damaged, we will get there to perform an inspection right away. If you have the time and conditions to do it at that precise moment, we will not hesitate. As mentioned before, it may take more or less time depending on the size of the property and the extension of the sewer line. But we will have the results soon enough.
Determine if a replacement is really necessary. 
This service is not cheap at all. We don't want to lie about this since even when companies like us work with what the client can pay, it is hard to just gift the work. Sewer pipes and every element in the system are not cheap, and acquiring them will be the real expense in this project. Therefore, we want to know if you truly need it before starting it.
When the damage is a small leak or some pressure that was causing the entire disaster, it is easy to get a repair done unless the pipes are too old. However, when it is something serious where you can easily see the pipes are broken or something similar, replacement is the right thing to do. Just keep in mind that we will do our best to cheapen the price and allow you to get this done to continue enjoying your property and open your commercial building. 
Our company will always be there to handle either a small replacement or a huge one that involves almost the entire system. But fortunately, you will not have to worry about anything thanks to our well-trained and experienced professionals. 
We offer a variety of services at the American Septic Tank Repair Team of Sugar Land. Below, you will see the most popular services our clients & customers always ask for. But if you need something that may not be listed, don't worry. Just give us a call or fill out a form, and we'll make sure to come out to your property or business and make sure we can help you solve your septic problems
Here at the American Septic Tank Repair Team of Sugar Land, we provide the best septic tank services throughout all of Texas and specifically the Greater Houston Area. Below are the nearest cities we can offer immediate services. But if you don't see your city listed below, don't worry! Just give us a call or fill out a form on our contact page, and we'll make sure to take good care of you.
American Septic Tank Repair Team of Sugar Land
12847 Glenwolde Dr, Unit 4B, Houston, TX 77099
(832) 400-6464