Best Sewer Line Repair Specialists in Sugar Land, TX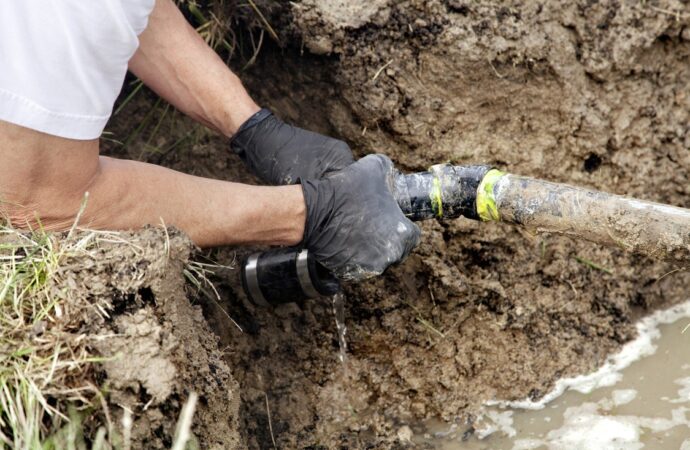 There is a lot involved with sewage systems, starting with all the pipes and literally lines that run through your property and in the streets. Most people that either handled the installation or just bought a property that was already connected to the line don't really pay attention to the problems that can come later on. It is normal to not be well-informed about the problems that can come from this system, but mostly when it comes to the services you might need to perform later on.
A new sewer line is not a big problem since you shouldn't have to worry about it for several years. However, if you want it to last and allow you to continue with your sewage system without problems and avoid waste to get accumulated in your sinks and other areas of the home or business, you need to keep something in mind: maintenance. Now, we don't actually want to talk about this service but rather about what can happen when you don't perform it as often as you should. Any sewer line repair can take place when you are unable to perform maintenance or the one that was done was quite poor.
This is the main reason in Texas and especially in Sugar Land that causes people to have to deal with all the repairs in different parts of the line. Of course, the reasons behind needing to repair it are many and you will have to perform a different one according to the damage and condition of the line. That being said, here is where we wanted to get. If you're here, that means you are trying to repair your sewer line due to specific damage it suffered or for unknown reasons that still need to be determined.
Whatever it is, make sure to not handle this task on your own. Our company American Septic Tank Repair Team of Sugar Land is there for you in order to deal with any repair you have to perform on your sewer line, and we will make sure that it is not only working properly but even better than before. Many property owners come to us and ask what they can do to get something done or solve a problem, and we are more than happy to answer the question. However, we know that many of them decide to handle everything by themselves and end up pretty much ruining everything.
We don't want you to do this for two reasons: you will make it worse or you will end up hiring professionals, either way, sooner than later. But if we have to mention the main one it must be because some property owners and even 'experts' perform poor repairs that just make you end up in a replacement process. To understand more about the difficult task all this takes, you must understand the reasons why you might need repairs in the first place:
Poor maintenance or it wasn't performed in the first place.

Sediments or buildups of hair, fats, oil, toilet paper, and any waste that came from the drains.

A natural disaster is like an earthquake that damages the pipes in your property and along the line in the street.

Aging. Sewer lines also get old and need to be replaced after a few decades.

Tree roots infiltrating sewer pipe holes or joints.

Construction in the area damages the pipes by not being careful enough.

Poor installation and design.
Although the repairs you might need are focused on the pipes and holes you can see present, the thing is that not all problems can be solved in the same way. Especially because some sewer lines are made of different materials and the joints or connections are done differently. In short, it is not a standard system anyone can just dig a hole and expose the pipe to repair it. However, if there is something in common is that any pipe can break either due to extreme inner or out-ground pressure.
How do you know you need to repair it?
---
The common signs of a broken pipe or some leaks in the sewer line are the ones that most people think about when there is something buildup in the drains that are obstructing the waste and water. For example, lack of water in the toilets and slow draining from all the sinks, bathtubs, showers, and more. Also, it is very common to notice the odor in your property even though you know there is nothing damaged with the drains that can be accessed inside it.
Therefore, you need to watch out for common signs that include the previous ones but also:
A flooded yard due to the water coming out of the pipes.

The sewage pipe or area where the pipe is broken and damaged is usually greener due to all the bacteria and grass.
Sometimes, determining the failure or problem in the sewer line is not as simple as just thinking about it depending on the signs that are shown on your property. Many of those systems end up 'exploding' before you even get the chance to notice something wrong with them.
This is why you must be careful with the pressure all the time. Or you will have to deal with more than some repairs that are not cheap either, but much more affordable than replacing the entire line or a part of it. Our company American Septic Tank Repair Team of Sugar Land will start by helping you to assess and inspect the pipes on your property. Based on the information we get from this; we will be able to confirm the problem or come up with the real one.
Keep in mind that inspecting the sewer line also allows us to know how to deal with the problem and get it repaired to make it work properly again and just like the first time. Depending on the repair that needs to be done the cost, time, and effort will vary but rest assured that we keep our prices lower than the usual companies in Texas.
We offer a variety of services at the American Septic Tank Repair Team of Sugar Land. Below, you will see the most popular services our clients & customers always ask for. But if you need something that may not be listed, don't worry. Just give us a call or fill out a form, and we'll make sure to come out to your property or business and make sure we can help you solve your septic problems
Here at the American Septic Tank Repair Team of Sugar Land, we provide the best septic tank services throughout all of Texas and specifically the Greater Houston Area. Below are the nearest cities we can offer immediate services. But if you don't see your city listed below, don't worry! Just give us a call or fill out a form on our contact page, and we'll make sure to take good care of you.
American Septic Tank Repair Team of Sugar Land
12847 Glenwolde Dr, Unit 4B, Houston, TX 77099
(832) 400-6464