Septic Tank Replacement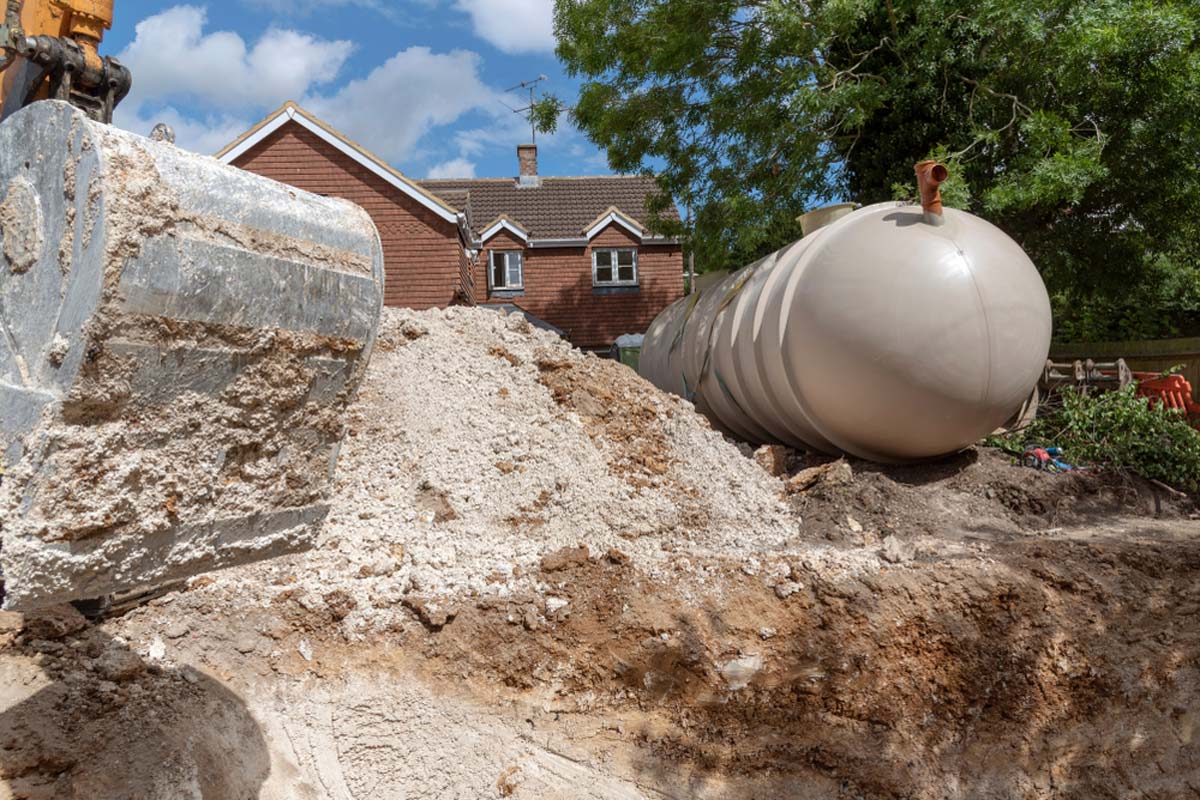 A Septic Tank is an underground box-like structure made from either concrete, fiberglass or plastic. This is where domestic wastewater flows to for basic treatment. It can also be used in areas where there is no centralized sewerage system. The treated wastewater is then disposed to a drain field. If it is not well-maintained, the groundwater pollution can turn into a serious treat to the health of those nearby. Did you know that the term "Septic" from Septic Tank refers to the anaerobic bacterial environment which develops from within the tank? These bacteria help in the treatment process where it decomposes or mineralizes the waste.
When would your Septic Tank need to be replaced?
Have you ever noticed that there is sewage backing up? This is never a good sign. If this happens, immediately reach out to us and we will be there as soon as we can. We will have your septic system inspected to identify the source of the problem. Have you heard a gurgling sound coming from your drains? This would possibly mean that your pipes have been clogged by raw sewage. Another tell-tale sign that your Septic Tank needs replacement would be when foul odour starts coming from your Septic Tank. Next would be contaminated well water. When the septic system fails, you may start noticing raw sewage surfacing onto your yard. When this happens, your ground water may be compromised and contaminated with nutrients, viruses and coli form bacteria. Other than that, a visual sign that your Septic Tank needs replacement would be when the grass near to your septic tank seems greener than the rest of your lawn. Why? Because when the drain field beings to fail, the moisture level in the soil tends to increase, making your grass appear to be greener.
So, what do you think? Need your Septic Tank to be replaced? Not sure? Well, we can also arrange to conduct an inspection of your Septic Tank to be sure that it really needs to be replaced. We are Sugar Land! We are trained and equipped to support you with Septic Tank Pumping, Installation & Repairs! Our team consists of individuals who are highly driven, responsible and helpful (so do not be afraid to approach them)! Have any questions or concerns? Reach out to our team members, especially those who are on-site, carrying out the service for you. We guarantee you that they would be more than happy to share some quick tips with you to address any concerns that you may have!
Reach out to us today and have your Septic Tank Inspected and Replaced!

Sugar Land Septic Tank Pumping, Installation, & Repairs has a lot of experience in Septic Tank Replacement.We guarantee you solutions that will give you the most reliable services. Here is a list of the services that you can get from our brand;
We service all of Texas. Below is a list of cities most of our services are at on a daily basis:
And all other cities throughout Texas, just fill out the form below for a free quote!
Feel free to request for a free quotation now!