Sugar Land's Top Septic Tank Replacement Company Near Me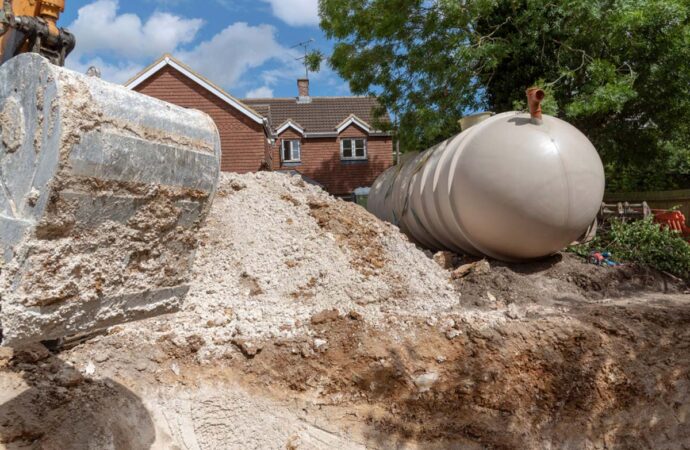 Overall, no one should be thinking about replacing something when it comes to parts of a property like walls, roofs, floors, and even less, septic tanks or systems. However, it is true nothing is eternal and at some point, you need to get new things to make sure everything works properly. But have you ever heard about someone replacing septic tanks? We doubt it. It is not common and the reasons behind not many people requesting it are simple:
It is not necessary.

It is too expensive.

The process takes too much time and effort.
In all honesty, we have to admit that the main reason lies in the budget of every property owner. Installing a septic tank is not simple, but you can imagine that the task of replacing it will take either the same amount of work or even more. After all, when you need to replace one that means it is too old, got damaged, or maybe you are changing it for another system like sewer lines.
In the case of the tank being damaged, the task is for sure more difficult. The person in charge of the process needs to assess the tank and ensure there is nothing that will cause accidents or make the process more difficult while extracting it. And in the process, confirm if it is possible to remove it with the usual method. Some tanks are harder or easier to remove than others, and if we are talking about removal instead of replacement in specific is because you need to understand that every part of it is difficult.
Removing alone will take a lot of time and you need to take the right safety measures, own the correct equipment, and make sure you don't make a single mistake that can condemn the entire process. Before we get any further with this topic alone, you must know this is something you won't be able—nor should—handle on your own. Therefore, requesting sewage services from a company or professional dedicated to them is the right and only option.
Our company American Septic Tank Repair Team of Sugar Land is one of the few companies in the industry and in Texas that can help you with all the projects without hesitating. We understand what it takes and also, we have trained and prepared our experts to deliver the best services around septic tanks. Although we cannot say this is going to be simple, we assure you that there is nothing we cannot do when it comes to this industry.
Now, we want to make a few things clear before even helping you. And for this, we want to give you some information:
With proper maintenance, it is not necessary. 
We are serious about mentioning this all the time, and the reason is that we don't want you to go through the entire project when it is not entirely necessary. Most property owners end up performing it or requesting the service in our company just because of poor maintenance. You can prevent many things by taking enough care of your belongings, and this is not the exception. If you do it properly, you will not have to worry about replacement for decades, only when it is old or was damaged by other sources that get out of your hands.
As much as we want to keep the prices or costs affordable for most property owners, everything depends on the size of the tank and how much it will take us to perform all the services. So, basically, the bigger your tank and problem—when it comes to damaged ones—the more it will cost. However, septic tank replacement is not something considered cheap but rather just an expense that is necessary every few decades. But our team will do its best to keep it at a low/medium price so you can get it done when it is 100% necessary and repairs or other options are not viable.
Types of replacements
---
Here is a bit of information: you don't always have to replace the entire tank. This service is focused on not only the structure itself but also the parts that conform to it. Therefore, whenever you are going to get a replacement done you need to think about what needs to be replaced in specific. You can either remove the entire septic tank for a new one, or deal with the tank pump, drain field, tank lid, or the usual filter which is quite common to replace due to how much it is used.
Whatever you need to do, we will be there for you. Our company American Septic Tank Repair Team of Sugar Land is always there to get anything replaced as long as we determine first. We have given you all this information so far to let you know that when this service needs to take place, our team will perform an inspection to ensure we are going for the right focus. We will determine if you either need to replace your septic tank or if another option like changing the filter or pump is viable and the only thing that can't continue in the system.
Keep in mind that whatever we end up replacing, you can let us know if you're looking for a new one. Not only in terms of time but also in models, designs, and more. For example, if you have a plastic septic tank and want a concrete one next, you can let us know and we will find the tank you need according to your preferences and requirements. Just leave everything to us and communicate with our experts when they arrive at your property in order to know if we are proceeding according to not only what you need but also want.
Things can be done in different ways, and we might have more options than going according to everything you're expecting for this replacement service. As for the rates, we will work it out before even starting to perform the service.
We offer a variety of services at the American Septic Tank Repair Team of Sugar Land. Below, you will see the most popular services our clients & customers always ask for. But if you need something that may not be listed, don't worry. Just give us a call or fill out a form, and we'll make sure to come out to your property or business and make sure we can help you solve your septic problems
Here at the American Septic Tank Repair Team of Sugar Land, we provide the best septic tank services throughout all of Texas and specifically the Greater Houston Area. Below are the nearest cities we can offer immediate services. But if you don't see your city listed below, don't worry! Just give us a call or fill out a form on our contact page, and we'll make sure to take good care of you.
American Septic Tank Repair Team of Sugar Land
12847 Glenwolde Dr, Unit 4B, Houston, TX 77099
(832) 400-6464