Fast Commercial Septic System Installers in Sugar Land, TX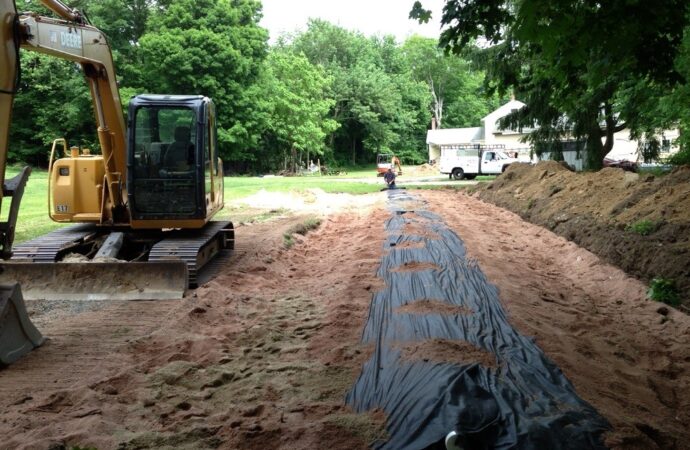 Dealing with commercial properties or buildings always takes a lot of work, time, and money. You need to consider every single aspect that will not interfere not only with you as the owner but also with those who will either be able to access it or for the items you are thinking to place on the property. What we want to say is that no matter what you will do with it, the task of installing and adding new elements will always be focused on you and many other people on the list.
However, when it comes to the essential and irreplaceable elements, there is no need to think about it as an obligation for others. Septic tanks or systems—for example—are necessary for any property, and you can't just expect your commercial one to work without one.  You need to get rid of the waste it will produce, and you have no other option for this than the ones we all know. Some commercial properties already come with a sewer line that is usually connected to the system installed for the state. Or with a septic tank to accumulate all the waste—liquid and solid.
But when you don't have it there is no other option than to start installing it yourself. With 'yourself', we are not being literal but you will indeed need to find the professionals and company that can help you to get this done. You need to make sure the experts you hire can help you not only with the hard work but also determine aspects such as the septic system you need specifically when it comes to the size of the tank and the rest of the parts included.
What worries commercial owners like you is the level of sewage they have to manage, and it is understandable when you keep in mind how much waste can get out of a single house. We don't even have to think about an entire commercial property. Now, do you need one in case you're already connected to another system? If you are someone who will deal with or have over 25 people on the property, you definitely must install it.
Commercial septic systems are quite useful to handle such levels of waste and expand the capacity of the property in this matter. But if you are going for one, you must know many things can go wrong with a poorly installed system:
Wastewater is all over the place.

Odor in the entire property.

Unusable toilets and other parts of the building are connected to the system.

You will need to spend a lot of money to get it fixed.
Therefore, whenever you need one septic system for your commercial property, get assistance from experts like us at the American Septic Tank Repair Team of Sugar Land. 
Our company is one of the few businesses in this field located in several cities in Texas that will deliver the results you not only expect but also need. We have taken seriously our tasks of helping commercial property owners with what they need. And for this, we have trained and equipped every single one of our professionals. Now, before we continue with the entire system there is something we want to point out.
Some owners believe that dealing with the septic system is not that hard if you acquire the materials and elements to place. And this might be true when you look at it as digging holes and placing a tank, pipes, and some extra parts. However, we need to ask you and them: do you even know how to get the structure done? There is a lot involved in the process and if you don't want to suffer from the previous problems and consequences, do not "save" money trying to do it yourself.
How does this system work?
---
Just like any other septic one in some residential properties. Since it is to deal with all the waste of the property, you can expect it to collect every single liquid and solid waste that comes through the pipes. But to give you a clear idea here's a step by step:
Once installed, all the waste goes down the drain from toilets, sinks, tubs, and anything connected to it.

It goes all the way to the septic tank where solid waste stays and is treated with bacteria.

There is a part of the system called 'drain field' where the wastewater flows and this part treats and filters every single tear of this water.

Then, the water that was treated flows into the ground, which is why septic tanks are always installed in backyards and patios.
The reason why you have problems such as odor—and we wanted to add this here due to the opportunity—is because the septic tank in specific will eventually get full. As a result, it will not filter or treat the wastewater properly and some of it will go from the drain field to the ground without being clean.
Here is where all the odor tends to come from. This is something to keep in mind for septic systems in commercial properties because the scale of waste is much larger and the entire process takes more time. You need the right size for the tank and make sure that the pipes will do their basic job. All this can be guaranteed by our professionals that will make sure your big septic system works properly and ensure the stability and integrity of the property by dealing with the waste. 
In our company, no one has complained during the last 10 years of our services, and we have been over two decades in the industry. We assure you there is nothing we don't know about this system on such a big scale, and we guarantee there will be no problems related to the installation, repairs, or any other service you need for it, and is performed by our professionals. After all, we spoke a lot about installing it but we also deal with repairs, maintenance, replacements, and anything you might need for it in the future or maybe now. All you have to do is to call, email, or visit us at the American Septic Tank Repair Team of Sugar Land.
We offer a variety of services at the American Septic Tank Repair Team of Sugar Land. Below, you will see the most popular services our clients & customers always ask for. But if you need something that may not be listed, don't worry. Just give us a call or fill out a form, and we'll make sure to come out to your property or business and make sure we can help you solve your septic problems
Here at the American Septic Tank Repair Team of Sugar Land, we provide the best septic tank services throughout all of Texas and specifically the Greater Houston Area. Below are the nearest cities we can offer immediate services. But if you don't see your city listed below, don't worry! Just give us a call or fill out a form on our contact page, and we'll make sure to take good care of you.
American Septic Tank Repair Team of Sugar Land
12847 Glenwolde Dr, Unit 4B, Houston, TX 77099
(832) 400-6464